(Written and originally published on: 10 June 2013)
Hallo! I have finally gotten the time to create a blog entry amidst the traveling, staring at great architecture, avoiding the rain, and fighting jet lag! It's currently 6:45 AM and breakfast begins in 15 minutes, but this morning, a blog update on what's happening with me is my main priority.
After 18 hours of travel to get to Frankfurt, I arrived at the airport having been greeted by Ulrike and Thomas of DJH (Deutches Jugendherbergswerk), they had a sign and all and welcomed me to their country with happy smiles on their face.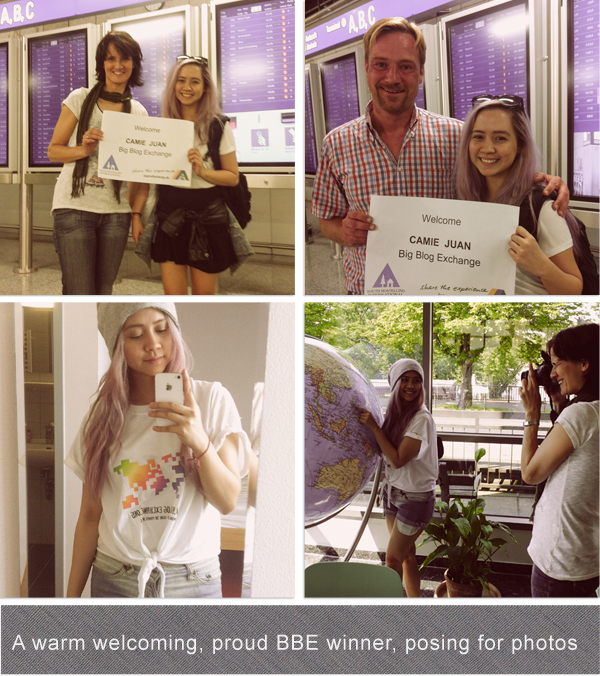 We then took the bus and walked to the hostel,  I was relived to have finally arrived so I could get rid of all my heavy luggage. They showed me to my room to get me settled in, I got out of my airplane clothes and wore my DIY BBE shirt, then they showed me around the hostel, took some photos for the press…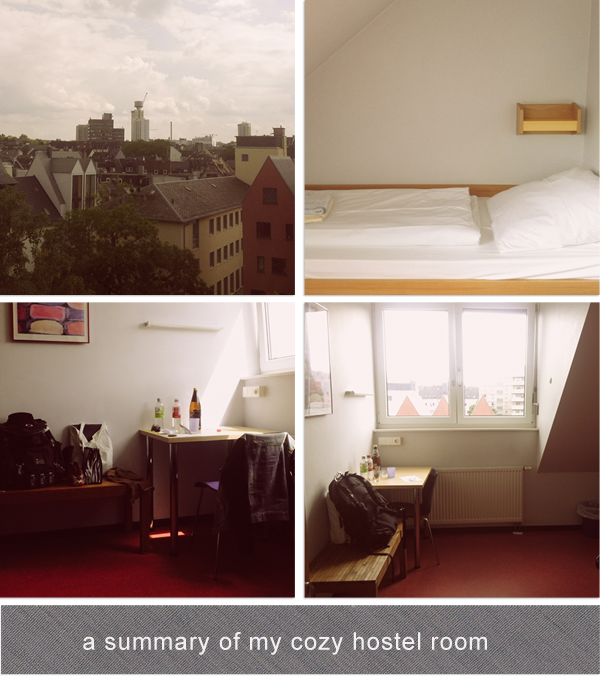 I quite liked my room, they booked me on private ones for the rest of the trip, which is nice. I get to rest and have some peace and quiet.  The bed and pillow was the highlight of the room, I believe!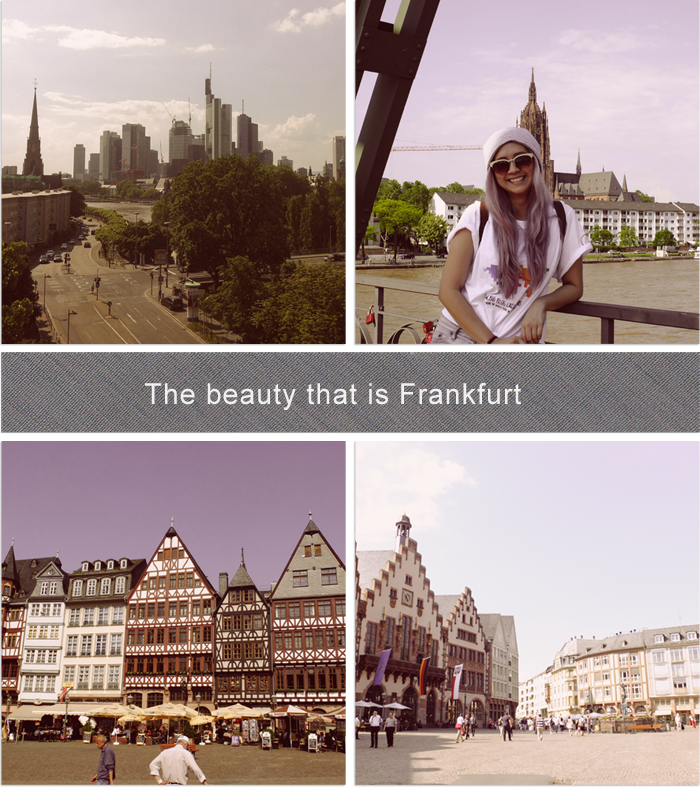 Ulrike, Thomas and I walked around a bit getting to the U-bahn to get to the Hauptbahnhof (main station in German) so I could get a German rail pass. I quickly took photos as we walked around, I wasn't able to explore this part of the city but I plan to do so once I go back here on the day before my flight back to Manila. Once we got to the Hauptbahnhof, there was a long queue at the ticket center, which was about 50 people! But thankfully, Thomas had some "VIP" card that granted him to get ahead of the line and purchase my German Railpass. We then headed off to T-Mobile so I can get a German sim card with 200mb data, DJH paid for my sim card as well as their welcome gift to me… I was worried that I'd use up the 200mb a day instantly but so far T-Mobile has proven to be the best network I've used, not only does it have fast 3G connections, it works well for a limit of only 200mb! I'd recommend it to anyone visiting Europe! After setting me up with a sim card so I can stay connected with family, friends and social networks, Thomas and I said goodbye to each other and off I went back to my hostel for some dinner. By the time I finished with dinner, I was so tired, I had no choice but to retreat back to my room, have some Apfelwein which was complimentary from the hostel, and then I went to bed.
The next day, I packed my bags, had a wonderful breakfast out in the courtyard (hoarded some Nutella as a snack for my trip) and off I went to find my way to Munich! I was honestly really scared at first, the night before I left for Frankfurt, I was sitting on my bed stressing out and almost wanting to break down and cry. After a long flight, meeting with Ulrike and Thomas and talking to me about Germany and showing me around, I started to feel extremely overwhelmed at the thought that I will be doing all this on my own, traveling and finding my way to each city safely. I've never done anything like this, so to suddenly be 7,000 miles away from home was something I was scared of.  I took deep breathes and reassured myself  that I wouldn't be in this situation if I couldn't handle it myself. I slept it off and the next day, I was back to feeling like me again… confident and adventurous!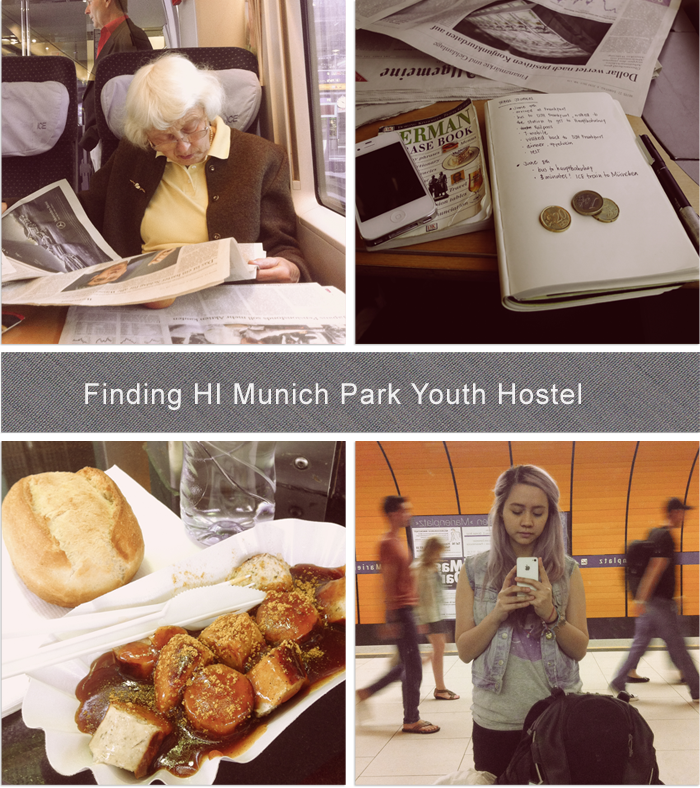 I took the bus outside the Frankfurt youth hostel and it brought me right to the Hauptbahnhof. Thomas told me that a train to Munich leaves every hour, and exactly when I got there, the next train was to leave in 3 minutes! I ran to platform 6 where the ICE train to Munich was located and took a seat by the window, in front of an old lady who read the newspaper all throughout the 2 hour train ride to her destination. I spent my time on the train writing in my travel journal, doing some accounting and just looking at the German countryside… I forgot to bring a snack on the train with me so as soon as I arrived at the Munich Hbf, I went to the nearest food stall and got myself some Currywurst! I absolutely loved it, but apparently I have to try it again in Berlin because it's Berlin's specialty. I then tried to navigate my way to my hostel in Munich, HI Munich Park at Miesingstr 4 (I would type it correctly but I don't have special characters on my board to spell it correctly, so excuse me for that!)… With the help of a non-english speaking man at the DB office, I made my way hoping I was actually going the right direction. I also relied a lot on Google Maps and an app called FahrInfo (which is so useful! You input your destination and it tells you which subway trains/trams/buses to take to actually get there!!! I swear it is Godsent!)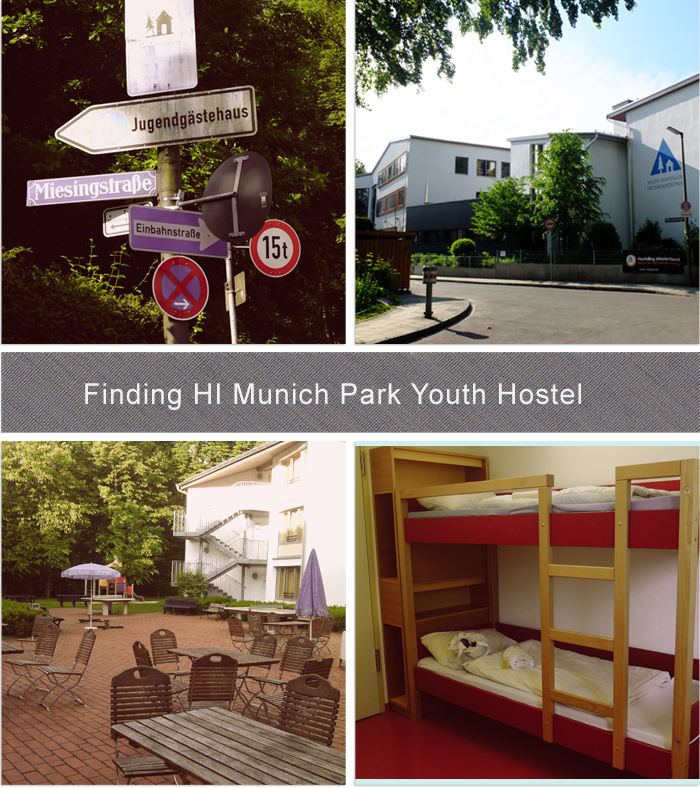 True enough, I made it to the hostel!!! I even met two Canadian girls (who I think were a couple because I heard one of them say "babe" to the other) because they thought I was a local and needed directions. I told them I was headed to the hostel as well and knew the way thanks to Google Maps and they followed me as Google Maps led the way! I really love the hostel I'm staying at here at Munich, it has a bistro for when you're hungry, a lounge where you can sit and use your laptops, the courtyard (which I'm sure I won't be able to use because it's too cold and always raining) and my private room with a bunk bed. It's a very fun hostel, and their food for breakfast is great as well!
A few things I learned in my two days so far:
Not all Germans sound angry when they speak – Almost everyone I know back home thinks Germans sound angry when they talk… It's not true, I shall debunk that myth now. I've only heard one angry sounding German so far and that was a few minutes ago, but I think the hostel guest was complaining about something…
When using escalators, stay to the right, the left lane is for people in a hurry – Thomas had to pull me to the right twice while we were on escalators. Oops! I know better now, though!
Adults and elderly are quite friendly, they often greet you with Guten Morgen or a smile on their face when you make eye contact. Filipinos are NEVER like that, despite us being friendly people…
They are trusting of their citizens to not take U-bahn, S-bahn, trams and busses for free… You always should have a ticket but they don't always check if you do either… Which to me is a bit funny, but I guess it's because I come from a country where people would take advantage of that trust the government gives.
Don't be afraid to step out of your comfort zone, if you're lost then you ask, if you want something, say something. If you don't speak up, then you'll get nowhere!
The German countryside makes use of solar energy for electricity.Apparently it's a big thing now and people really invest in it, and I really admire that! It's so earth friendly and great for the economy. I wish the Philippines gave importance to something like this as well.
The German railways is a big big network, intimidating at first, but it's efficient and the best way to get around this big city. It is also worth every Euro you pay for! I can't be more happy with it. I used to get intimidated with it, but I love it now. It's always on time and hardly any delays… Very efficient!
Well, that's it for now! Yesterday I went to Dachau Concentration Camp, but I will post about that as soon as I can.
I'm off to have breakfast and explore the city some more!