I owe you guys more entries for what else happened during my Germany trip, so here's what went down after my visit to Munich… My next stop was Potsdam!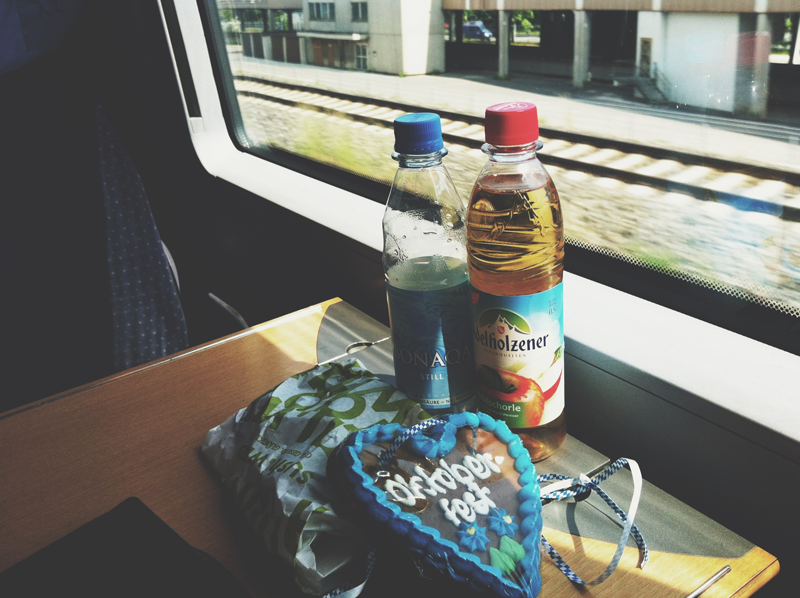 Another 4 hour ICE high speed train ride from Munich to Berlin… Honestly, one of my favorite modes of transportation. I think the best choice when traveling from city to city or country to country around Europe, would have to be via high speed trains. It's cheap, efficient, clean, comfortable, and the best of all? You get a killer view of the country side and get a glimpse of the little towns and houses along the way!
(When I crossed the border of Germany and Netherlands, it was the coolest thing. You could literally tell you've crossed the Dutch border because the walls had embossed windmills on it! How cute is that?!)
(Anyway, moving on… I didn't mean to segway all the way to Netherlands. Berlin. We are in Berlin.)
After navigating through the Berlin Hauptbahnhof, I found my way to Am Wannsee, which is quite far from the Berlin city center. I was to stay here at the Jugendherberg Am Wannsee hostel for 2 nights so I could drop by and have a quick hello over at Potsdam. It was a last minute revision to my BBE trip schedule, Markus Klip (from the German Youth Hostel Association) informed me that Berlin International YH could not accommodate me due to being fully booked, so I was diverted far away into Am Wansee…
A blessing in disguise! Am Wannsee is in the quieter side of Berlin. And the hostel I stayed in was quiet and cozy as well, very clean and the staff was very accommodating! It's also located on Lake Wannsee. The hostel is a 10 minute walk from the Nikolassee train station, and on the way, you pass by a road where there's a food stop or hang out spot for big German bikers (which quite honestly scared me a bit… I'm talking long beards, leather jackets, bandanas and big motorbikes…), it was literally just a food stall where they sold freshly cooked sausages and such, and they had logs for chairs and tables. It was too cute! I wish I took a photo but every time I walked passed them, I never had the guts. I was too scared that they might find it rude. So I chose to keep to myself. I tried to Google a photo but to no luck.
Here's a photo of one of the houses I passed by while looking for the hostel… I found it quite cute. I love European houses for their design and architecture around the cities.
Onto my cozy room at the Jugendherberg Am Wannsee…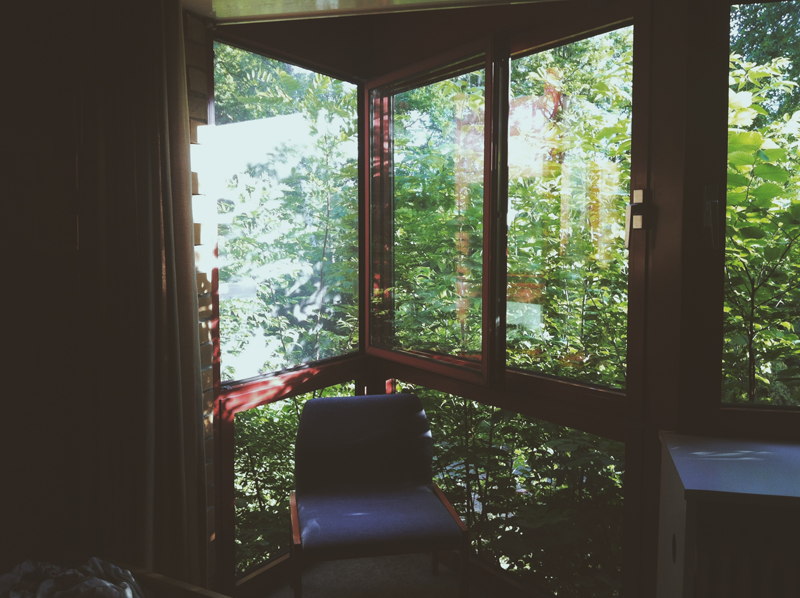 My favorite spot in the room, I would sit here with the window open right before before diner time and the weather would be around 18C… Perfection.
This is a typical German dinner… I honestly looked forward to dinners at the hostels. They always had such good food. As a person who has grown up in a culture that likes to add overwhelming amounts of sauce to dishes (Thank god for rice because rice seems to buffer the strong tastes), I quite appreciated the mild (yet never bland) taste of European food! 
On my second day in Am Wannsee, I made my way to Potsdam for a day trip of touring around it's historic town.
Nikolassee has got to be my favorite train station in Germany. It has so much charm, and the Germans who designed it weren't even trying! 
A nice German lady helped me find my way to Potsdam, making sure I bought the right train tickets and making sure I got off the same platform as well. When she had to get off on her stop, she went up to me to remind me what station I had to get off from and which train to take next. That was really sweet of her, she was one of the many few helpful Germans I came across during my trip :)
So I arrive at Potsdam, and I had no idea what to do or where to go next. As I exited the big train station, there were tour bus companies everywhere and all these girls trying to get you to buy tickets from them to go on their tour bus. I figured, what the hell I'm here, I have no idea where to go, so I might as well get on a hop-on/hop-off tour bus! I picked whichever bus, they all had the same routes anyway. 
The tour bus brought us around Potsdam and while my biggest problem was time and all the places to see, I decided that my priority was to visit Schloss Sanssouci, the German equivalent of France's Chateau de Versailles.
Schloss Sanssouci is the former summer palace of Frederick The Great, King of Prussia. 
I completely fell in love with this Palace, the outside doesn't even do it justice. The Rococo architecture was absolutely breathtaking.
A photo I took in one of the rooms that had paintings hung up on the walls. I bought a pass for 3.50 Euros so I could go snapshot crazy in this palace! Pretty steep, but worth it nonetheless.
I Googled some more photos of the rooms inside the palace that I wasn't able to take photos of, for you guys to see just how beautiful this palace is! 
(not mine: photo credit)
(not mine: photo credit)
(Confession: I find Schloss Sanssouci much more beautiful and enchanting than Chateau de Versailles… Versailles was such a let down for me. I think the way Versailles is depicted in movies was exaggerated, hence the expectations…)
I spent the whole day in Potsdam, which I quite enjoyed going around the city via the tour bus, and learning interesting facts here and there. Another favorite part of the city is seeing the residential houses where the rich people live (luxury condominiums!), and the Dutch quarter where they had canal houses made for the Dutch immigrants. It's a beautiful city and a definite must-see when you're in Berlin!
The next day, I made my way to the heart of the city of Berlin… but I'll have to cut this blog entry short here and tell you guys all about it in my next BBE post instead. :)