As a kid, believe it or not, I was never really into fashion (not towards myself at least) and the most interest I had in it was going online and dressing up pixelated dolls and printing them out for my collection. I once asked my mom's friend for printer ink when she asked me what I wanted for my birthday. All because I wanted to print out more fashionable dolls that I styled and dressed up. Haha. Anyway, I'm starting to go off course from the main point of this post…
Last week, I attended the opening of Justice For Girls first flagship store here in Metro Manila with Gab (and bumbped into a lot of people I knew, from my professor, to my stylist friend, to Gab's two pretty younger cousins).
Upon arriving at the event, I had no idea what Justice was really all about, but the first thought that came into my mind upon seeing the store was, "Why the heck did this store not exist when I was a tween?" maybe if it were around, My 11 year old self probably wouldn't be so fashion illiterate. It also didn't help that I grew up around my guy cousins who got me into watching WWE on weekends instead of doing girly things. 
Anyway, as the opening commenced there was a funny speech given by a father who once went abroad for work and had his daughters ask him to buy Justice clothing for them. He did, and upon arriving home and giving his daughters their pasalubongs (Filipino term for gifts), he said he instantly became "the world's greatest dad", hence Justice being a magical brand that turned parents into the best parents ever! 
After the speech, they had a fashion show featuring Justice clothing and the different ways to wear them (The fashion show was coincidentally even choreographed by my professor and well-known fashion designer, Gerry Katigbak!) 
Each and every girl/tween/teen was so cute! My 11 year old self was jealous :P
There's so much color, prints, glitter, sequins, pink! Everything a young girl would love, they have! Heck, even I (being 23 years old) could not get over the cuteness overload!
I want the printed duct tape on the lower left photo! 
Cute sleepwear, and cute underwear! I'm glad to know they have my size for the cute undies! They remind me of Topshop's underwear, actually! I think they're cheaper though. So that's a plus!
Justice sells apparel, underwear, sleepwear, swimwear, lifestyle, accessories, and personal care products aimed at girls age 7-15. And apparently their biggest size goes up to size 18! Luckily, majority of us Filipinas are pretty small, and so a lot of you young readers of mine will still be able to fit in majority of their clothing despite what age you already are!
Here's a photo from the opening, we were standing around eating cocktail food that the waiters would keep bringing us: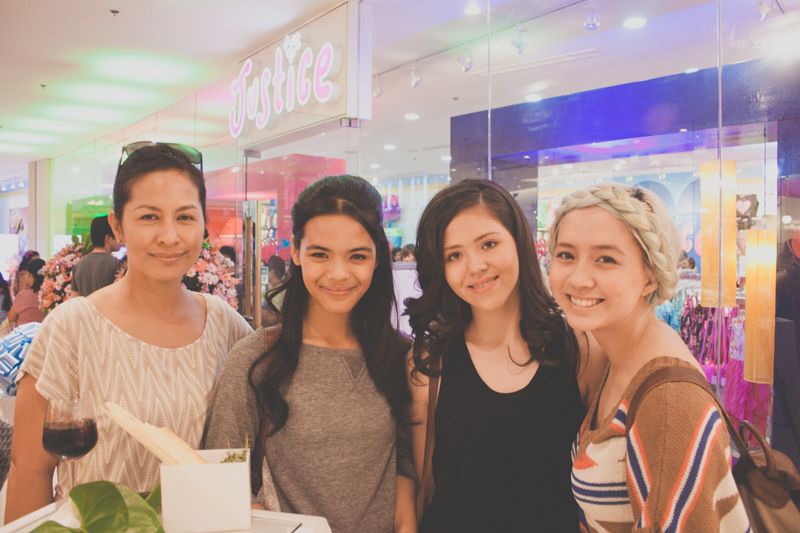 Tita Melissa de Leon, Becca & Bella (they're Gab's cousins and remind me so much of Kimi and I!!!) and then there's me. 
I also got a bag of freebies (a cute little neon green pouch and rainbow zipper bracelet) which I can't wait to give to my 9 year old cousin, Sofia! 
Justice is located at the 3rd floor of the new wing of Shangri-La Mall! Justice is also due to open at Alabang Town Center later this year (around October, if I'm not mistaken).